January 4, 2015
The Freak Coffins Art Spectacle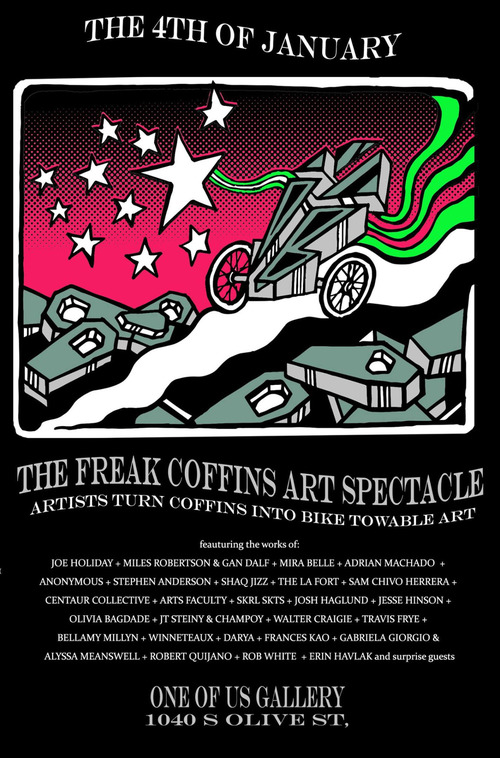 Curated by Champoy. Opening Sunday January 4th 2015 8pm.
Coffins have been used all over the world to inhibit the corpses of people whose mortality has expired for the viewing purposes of those who are left behind. Is this symbolic? is this reflective of things going on around us? The deal here is that we are taking that whole format and freaking the hell out of it...in the name of art. Yeah! Like a celebration!
Who died? What died? Well, we are always amidst that process being in the stream of all things passing...so hopefully it won't be you. but maybe something inside?
Participating Artists: JOE HOLIDAY, MILES ROBERTSON + GAN DALF, MIRABELLE JONES, ADRIAN MACHADO, GARTH ELSON, ANONYMOUS, STEPHEN ANDERSON, SIERRA JOY + AUDREY MARILYN JACOBS, SAM CHIVO HERRERA + ALEX SKRAMBLE, CENTAUR COLLECTIVE: Lili Said, Nicole Noriyuki, Nevada Hardman, Quinn Salazar, Svetlana Shigroff, and Mary Delioussina.
Arts Faculty: SKRL SKTS, ROSIE FATEMI + LXYS MERCEDES + RE MAC + JACK RABBITT, JESSE HINSON, OLIVIA BAGDADE, JT STEINY + CHAMPOY, TRAVIS FRYE, WINNETEAUX + DARYA, GABRIELLA GIORGIO + ALYSSA MEANSWELL, SPECIAL MENTION TO SYOMA FOR MASTER SIGN PAINTING SKILLS
Music and performances by: VERBS, FUNDERSTORM presents PROFESSOR CHOMP, ANDREW MANLEY, and surprise guest.

Garth Elson floating one of his styrofoam coffins in Los Angeles.

Garth Elson. TOUGH TIMES DON'T LAST. Styrofoam, helium balloons (when kinetic).

Miles Robertson performing GOD NEEDS MONEY. DONATE, a ritualized burning of a baby effigy mounted on a rotisserie BBQ coffin, at the Freak Coffins opening reception. Attendees were invited to make s'mores on the baby's ashes. Miles Robertson, Gan Dalf, Sarah Sitkin, Mayura Isabelle. Wax, vaseline, confetti, sawdust (baby), steel (bbq coffin).

Champoy and JT Steiny. Untitled

Joe Holliday. Columbarium Segment One. Cardboard

Gabriella Elise Giorgio and Alyssa Meanswell. Untitled

Sierra Joy and Audrey Marilyn Jacobs. Untitled

SKRL SKTS. Untitled

Chivo and Alex Scramble. Untitled

Stephen Anderson. Untitled

Centaur Collective. Untitled

Mirabelle Jones. Let Them Eat Cake. Flour, sugar, water, self-rising yeast, salt, milk chocolate, razor blades, pins & needles, shards of broken glass, silver nitrate, one .50 caliber sniper shell, cadmium pigment, euphorbia tirucalli extract, one 6 inch stainless steel knife, 30 sleeping pills, 2 shotgun shells, bleach, draino, rat femur, antifreeze, match stick heads, 12 year old scotch, cigarettes, rat poison, clostridium botulinum, AJAX, thorns, absinthe, battery acid, fish bone, artificial flavor, aluminum shavings, dark chocolate

Adrian Machado. Coffin Tallbike