April 3, 2015
Utopia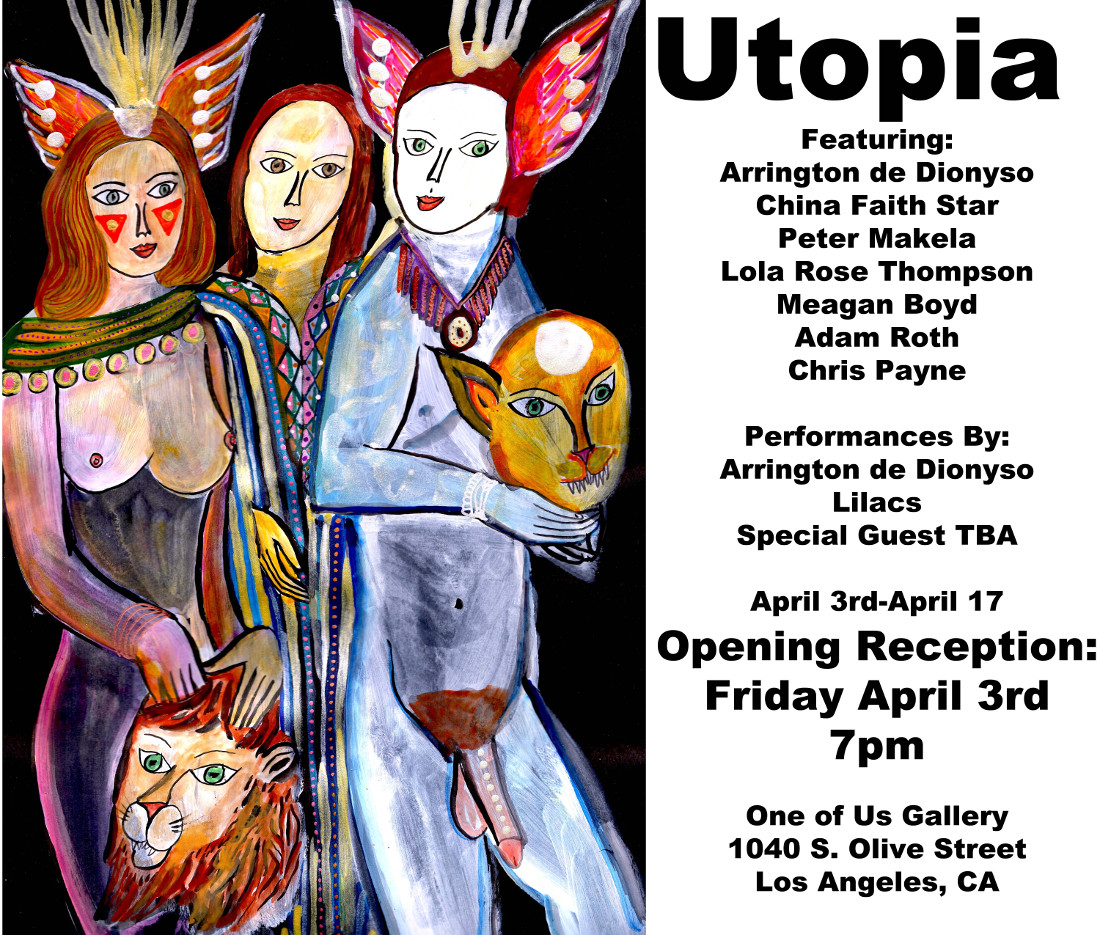 Utopia: Various Artists
April 3rd-April 17th 2015
Opening reception Friday April 3rd 7-11pm
Utopia is defined in the dictionary as an imagined place in which all things are perfect. This exhibition demonstrates various incarnations of Utopian thought manifested through a visionary lens.
Featuring:
Arrington de Dionyso
China Faith Star
Peter Makela
Lola Rose Thompson
Meagan Boyd
Adam Roth
Christopher Payne
Performances by:
Arrington de Dionyso
Lilacs
Special Guest TBA
Artists: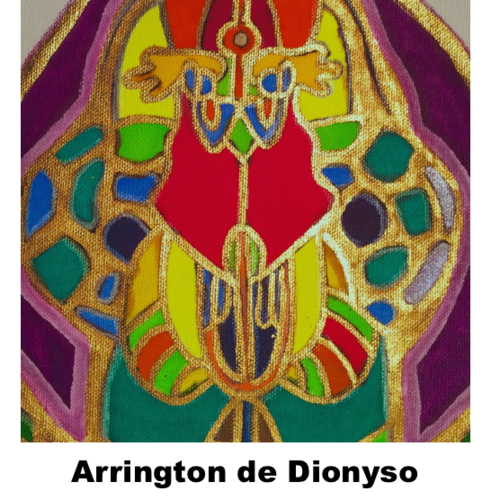 Arrington de Dionyso (b. January 4th 1975) is a self-taught artist and musician based in Olympia, Washington, known for his leading role in the bands Old Time Relijun and Malaikat dan Singa. His visual work channels the unbridled raw exuberance of Dionysian "enthousiasmos", communicating the rapture of spirit possession within the physical form in a Utopian landscape populated by lovemaking angels, tigers, dragons and other mysterious human-animal-flower hybrid creatures.
A 21st Century William Blake, Arrington personifies Imagination itself as a super-deity, constructing a personal mythology deeply connected to his musical performance practice, which is in turn heavily inspired by free improvisation, Central Asian throat-singing, and his experiences with Indonesian ritual trance musics.
Arrington's drawings are featured on fabric prints and embroidery in Yves Saint Laurent's Spring/Summer 2015 Men's Collection designed by Hedi Slimane.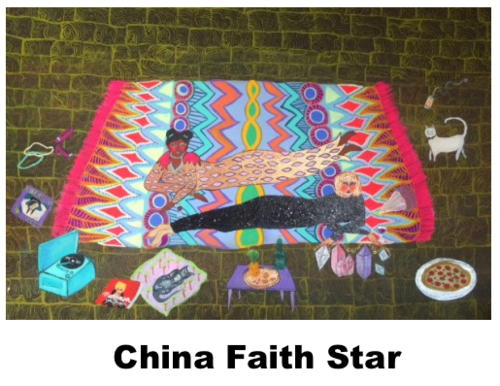 China Faith Star is a multi-dimensional artist and LA native with current roots in the PNW. Her work represents an evolutionary vision woven from a subjectively objective mind fabric. Interpersonal and intuitively brewed with auric perceptions, the result is kindred to bathing in moon pulses, ripe with geometry. Elusive and often appearing as occurrences, her broad medium scope (installation, flat-hanging, performance, ghost-scripting) is worth observing as it serves as an escape from the grapples of mundanity.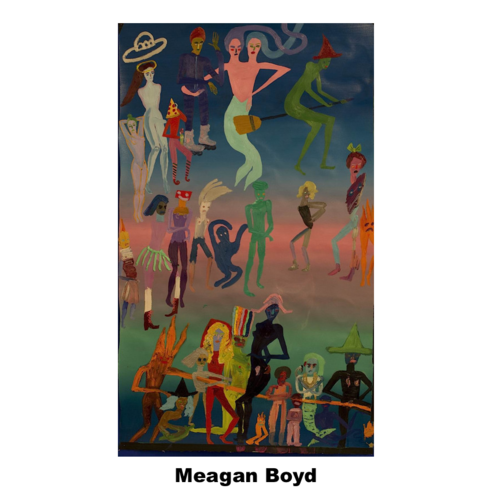 Meagan Boyd was born in California on the night of a full moon in January 1987, across the street from a two-hundred year old cemetery lined with palm trees. She studied painting at CCA and then moved back down to the paradise known as LA. Her work explores the transcendence between dreams and waking-life in the context of magic and myth. The work often depicts utopian atmospheres filled with modern day nymphs, sphinxes, party monsters, and other friends. Using an explosive color palate along with intricate line-work, her freakishly folk-like paintings combine the nostalgic essence of the fauves juxtaposed with a neon-like urban glow.
Lola Rose Thompson b. 1986 is a Los Angeles based artist. Through profuse and feverish figuration she limns memory, sex, new age aphorisms and the entertainment industrial complex,offering up highly specific, narratives in her titles, leaving one to wonder if she's actually playing the long con.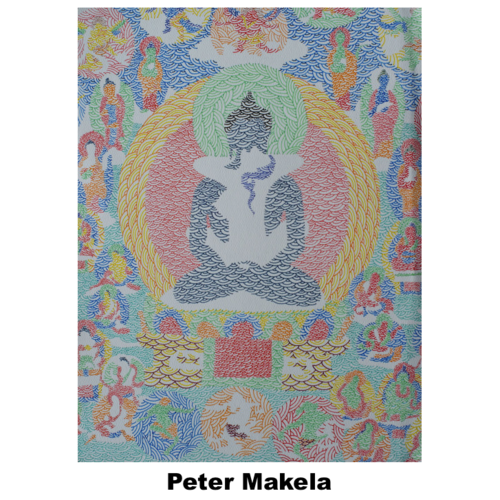 Peter Makela b.1985 is a Brooklyn-based artist, astrologer, and world traveler. He completed his BFA in Painting and Drawing from the School of the Art Institute of Chicago. His intricate line drawings are highly influenced by the Dharma, cosmic cycles, and his recent travels in Nepal and India. Peter's art and meditation practices are inseparable. Whether using "sacred" or "profane" imagery, he seeks to create meditative pieces of beauty that transcend duality.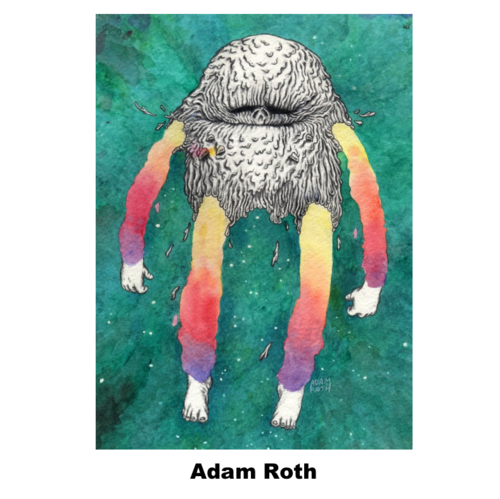 Adam Roth grew up in the 1980s and presently resides in Los Angeles, CA. He's been drawing most of his life and takes inspiration from action figures, futurism, and musings about outer space, birth, death, and rebirth. He has spent the last few years exploring and deciphering a once-latent narrative that has begun to manifest itself through images and writings. This ongoing project, called Astramid, is the thematic tissue connecting most of Adam's current work.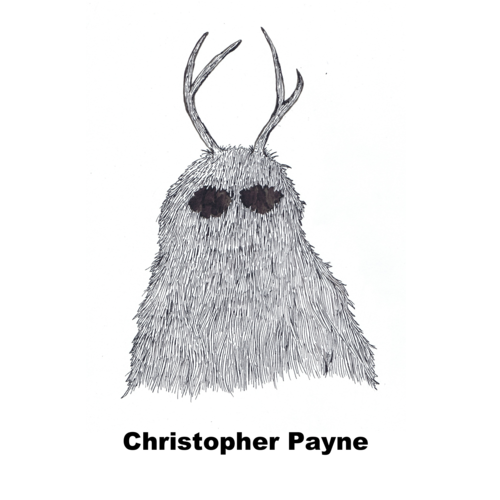 Christopher Payne is a Los Angeles based artist who is actively involved in the underground music scene. He performs and releases music under the moniker Whitman and is the founder of Folktale Records - a record label that specializes in limited edition, hand packaged releases on a variety of formats. He is perhaps most recognized for his countless number of event posters and his unusual methods for creating musical artifacts. Working in ink, watercolor, xerox manipulation, screen printing, and other practices, his work largely concentrates on nature and re-purposing, as well as taking inspiration from his decaying urban surroundings.